D-Style Dog Box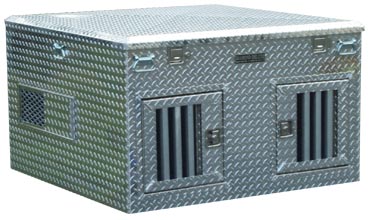 DIAMOND DELUXE D-Style have more features standard than the B-Style as well as taller dog compartments. Most of these units are sold to people with extra large hounds or bird dogs which tend to be a taller, leggier dog than a hound. Made with welded diamond tread aluminum it features carrying handles, locking full top storage, locking flush-mount handles on the dog doors, corrugated plastic insulation on all exterior walls, ventilated aluminum divider panel, dual gas struts, all locks keyed alike, dome lid, winter door panels on the dog doors, top storage divider and slide covers on the vents. DIAMOND DELUXE units have the largest vents of any dog box with the vent measuring 10" x 13½". These units are extremely lightweight with the large truck box weighing only 120#.
D-Style units have 21" height in the dog compartment and 6" top storage. Available in 38" and 46" widths and lengths of 38" and 46".
Options: Rear vents, roof rack, 12-volt fan and center cooler divider. We can custom build to any size.
Click the model # to see a drawing of the unit.
Prices