FOR A LIMITED TIME ONLY!
$50 off shipping on all dogs boxes except 1-Dog units
Call NOW to order yours!
Special Deals
SOLD!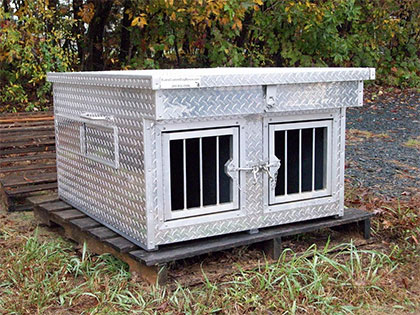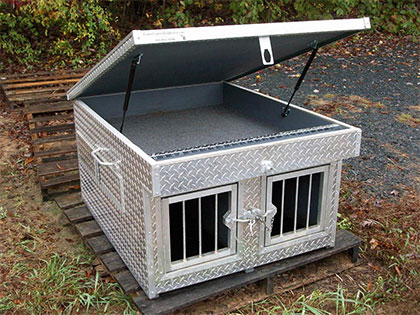 This box is only a couple weeks old and has only had a dog in it twice. In perfect condition. 37"W x 43.5"L (47.7"L on top) x 25"T (6" top storage). New Price is $550 - $600. Special Deal Price $475.00. Stock #110304
---
SOLD!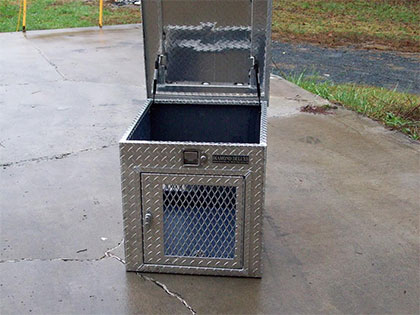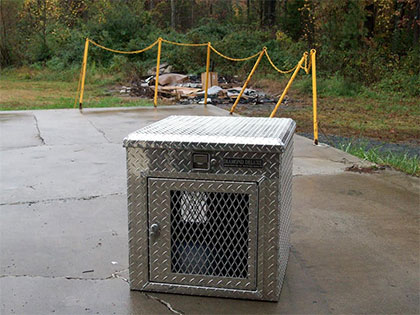 New box, never had a dog in it, just a little dirty. 1-Dog, no storage but opening Dome lid. 24"W x 28"L x 25"T. Retail Price $410.00. Special Deal Price $300. Stock #110303
---
SOLD!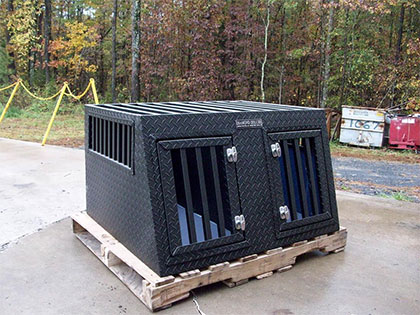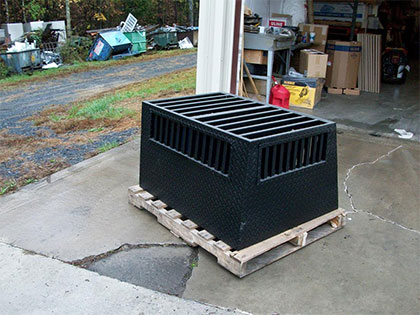 New box, never had a dog in it. Made to go inside a vehicle. Plenty of ventilation and powder coated flat black to make rear vision easier at night. Retails for $1050.00. Special Deal Price $525.00. Stock #110302
---
SOLD!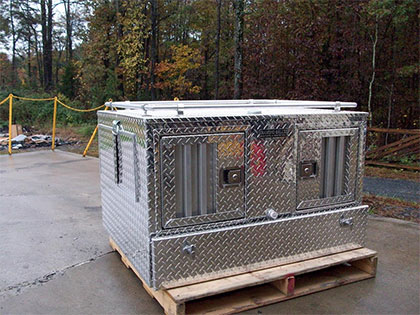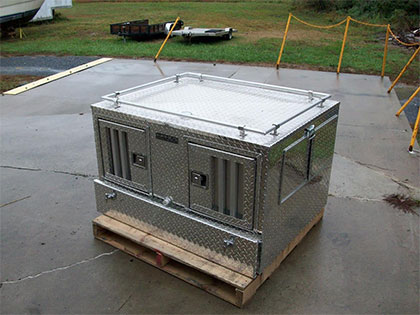 Custom Under Drawer Style with built in water tank. New box, never had a dog in it. A mistake on our part makes for a bargain for you. Retail Price: $1289.00. Special Deal Price $750.00. Stock #110301
---
SOLD!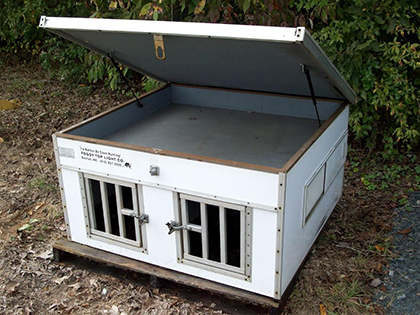 This unit measures 45"W x 45"L x 25"T. 2-dog with top storage. This unit needs some work on the back wall so we are selling it cheaply. The keys for the top storage are missing also. Price $125.00.
---
SOLD!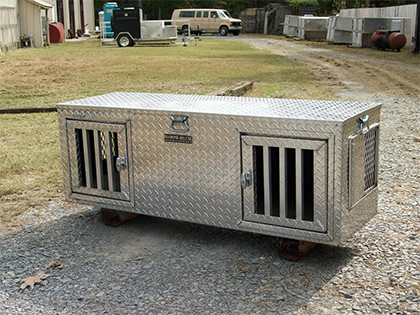 This box measures 59"W x 19"L x 20"T. 2-Dog, no storage. This box is in good shape and includes a set of dog compartment pads. Price $350.00
---
SOLD!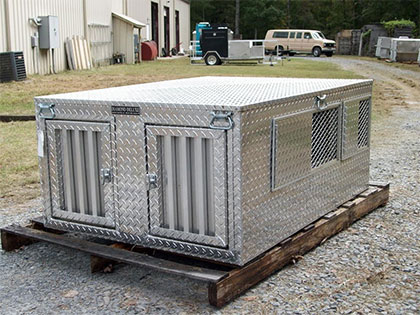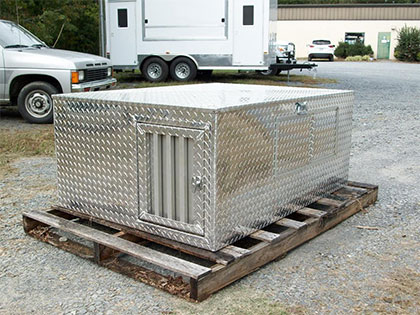 This box has never had a dog inside it. We built this custom but the incorrect size so our loss is your gain. This box measures 42"W x 58"L x 24"T. 3-dog compartments (see drawing). Includes winter door panels and 1" aluminum lined insulation. New price $1270.00. Special Deal price of $650.00
---
SOLD!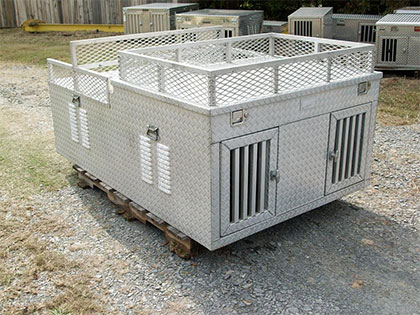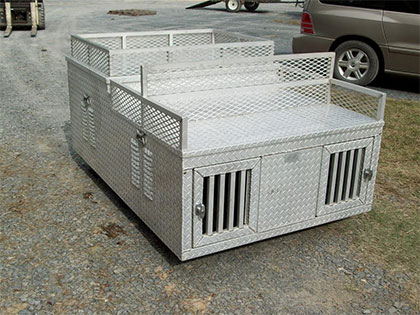 This unit is in good shape. It measures 48"W x 72"L x 27"T. 4-dog compartments, half top storage, mesh roof racks and even includes pads for all dog compartments. Price $1200.00
---
SOLD!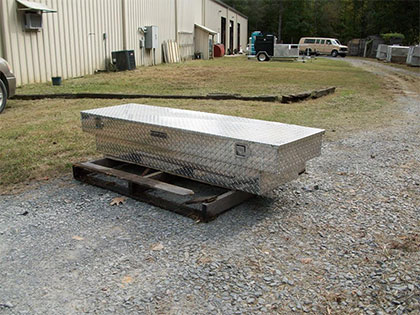 New custom tool box. Measures 70"W x 21"L x 6"T on top of the bed and 60"W x 17.5"L x 6"D below the top of the bed. Price $100.00
---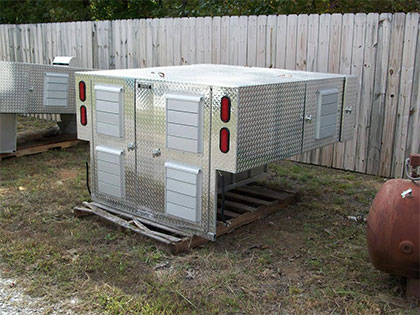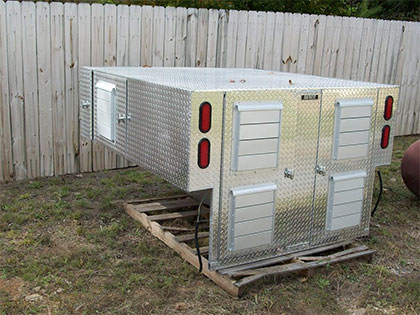 This is a custom built truck bed unit made for a short bed Ford F-150. Thru storage at the front, smaller compartment on passenger side, two large rear loading compartments and 3 interior lights in the animal compartments. New price $5594.00. Special Deals price $2750.00
---
SOLD!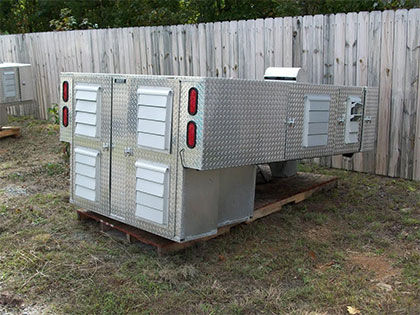 This is a used model BM96L. This is made to go on a long bed full size truck. For more information go to http://www.jacksoncreekmfg.com/bm96.php. This unit includes the Fresh Air Delivery option. We have 2 of these identical units. They were used for 2 years before being traded in. Both are in great condition. Price new $8119.00. Special Deal Price $3000.00
---
SOLD!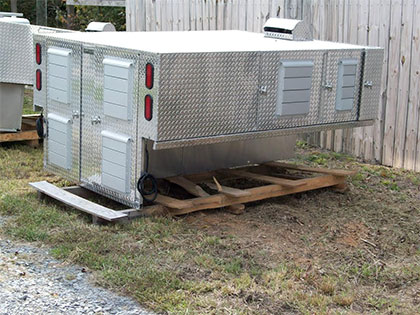 This is a new model BM98L. This is made to go on a long bed full size truck. For more information go to http://www.jacksoncreekmfg.com/bm98.php. This unit is made to use the truck bed for the rear compartment floor and sides. This unit includes the Fresh Air Delivery option. A customer ordered this unit incorrectly and since we received it back it's been sitting outside and gotten dirty. Other than that it is a brand new unit. New price $6245.00. Special Deal Price $3000.00
---