In December 2020, Jackson Creek Mfg., Inc. sold the DIAMOND DELUXE brand to L&M Manufacturing, an Amish family operated business in Bellville, OH. Since then L&M Manufacturing has been moving equipment and supplies from NC to OH and getting their shop set up for operation. During the week of March 14th, 2021 Warren Brown, founder of DIAMOND DELUXE and president of Jackson Creek Mfg., Inc. along with JD Sparks, a 20-year employee of Jackson Creek Mfg., Inc. who was shop foreman overseeing production of the DIAMOND DELUXE brand of products, traveled to L&M Manufacturing to train and help get their operation started in production. Upon their return to NC, Mr. Brown stated that he "was impressed with not only their work ethic but also by their attention to detail and quality standards" and further stated that he "felt assured that the reputation DIAMOND DELUXE had spent 25+ years developing for producing a first quality product as well as excellent customer service, would not only be continued but also raised to an even higher level". Mr. Brown said that he "had operated the business first and foremost to honor God and to serve his fellowman and felt that God had brought L&M Manufacturing to the table to continue the same principals". L&M Manufacturing plans on being ready to start taking orders in early April 2021 and as soon as they are ready, contact information for placing orders will be on the DIAMONDDELUXE.COM website. Jackson Creek Mfg., Inc. is proud of what L&M Manufacturing has accomplished already and looks forward to watching them continue the DIAMOND DELUXE brand with excellence.
Aluminum Dog Boxes
Meet the Dog Box that says "CLASS"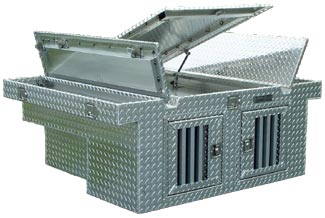 DIAMOND DELUXE is the premier brand of aluminum dog boxes, dog crates, dog hauling trailers, truck bed covers and custom built units for animal transportation. DIAMOND DELUXE units are constructed of 100% aluminum. Not only are DIAMOND DELUXE dog boxes attractive with their tread brite exterior, but they are also lightweight and will never rust or rot like other brands of dog box. Most all of DIAMOND DELUXE dog boxes are lightweight enough to be loaded and unloaded by one person with ease.
Also because DIAMOND DELUXE dog boxes are constructed with aluminum this makes them cooler in the summer and warmer in the winter. As a result you will see better performance from your dogs. Some of the standard features on DIAMOND DELUXE dog boxes are:
Corrugated plastic insulation on all of the exterior walls in the dog compartments.
All latches are lockable
Full-length piano hinges on all doors and lids
Carrying handles
Double gas struts
Latches on top storage compartments
Vents with sliding covers.
Thank you for not only visiting our site, but also considering our products. Thank You for Your Business and GOD BLESS!